A Toronto Open Concept Photo Booth could be a great addition to the lineup of entertainment for your Toronto wedding, school dance or corporate event. Having a photo booth for your party will keep your guests entertained as well as give you the host an opportunity to enable your guests to take away some fun memories of your event when they leave the party. This article highlights the advantage of having a Toronto Open Concept Photo Booth for your Party.
When considering a photo booth for your special day, you have to make a decision between an Open Concept vs a Closed Concept Photo booth (the type of Booth you find in any Toronto Mall).
Here are some advantages of renting an open concept photo booth for your Toronto Event.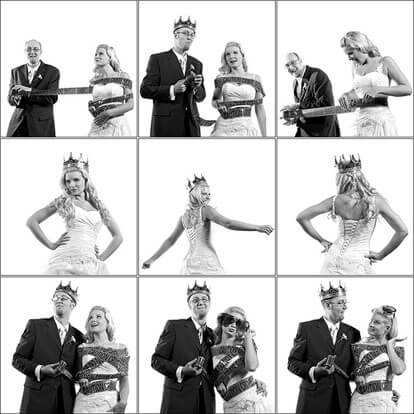 1. Portability & Flexibility
'Open' concept photo booths in most cases are are highly portable compared to the traditional 'closed' concept photo booths. Most Open concept photo booth are smaller in size yet packed with the latest technology such as a DSLR camera, Dy-Sub Printers and External Flashes. Due to the size and portability the photo booth & Backdrop can be placed an any 10 x 10 space and can easily assembled and taken down.
Blend in with the Decor
Due to its portability and requirement for less physical space, a Toronto Open Concept Photo Booth set-up can easily blend in with your decor. The Photo Booth will not look bulky and out of place. Companies like KoolPicX
Toronto Wedding Photo Booth Rental
Service offers different photo booth shells that can match your event theme with swappable body shells, selection of photo booth backdrop, props as well as Screen Graphic that can be customized to match your them colors. In most cases the Closed Concept Photobooth does not offer this level of flexibility.
Photo Booth Attendant
Although most Open Concept Photobooths are 'Fully Automated', you have the option of having a photo booth attendant to assist the guests and manage the photo booth area during the event. This will ensure that you have great quality photos since the attendant can make minor adjustment to photos (e.g: adjust focus, power of flash etc.,).
Entry & Exit from Photo Booth
Flexibility in entry and exit from the photo booth area is another advantage. This will enable to have a large number of guests line up for photo booth sessions and exit with out having to exit from the same side. The photo booth area can be arranged in a such a way for guests to pick up the props, post for the photo, Collect the Prints and Exit from the photo booth area.
2. More People in The Photo
One of the most important advantages of renting an open concept photo booth is the number of people that can fit in to a single photo. Since there is flexibility in the placement of the photo booth (distance from the backdrop) the number of people in an open concept photo booth can go from 2 people to beyond 12 people in the photo. This will be great if you are using 4×6 photo prints! In Most cases a Traditional closed concept photo booths can only host 3-4 people inside the booth at any given time.
3. Option of Backdrops, Placement & Use of Props
Due to the open nature of the Open Concept photo booth, you have a lot of flexibility in the size and placement of Backdrops. Also the prop placement closer to the photo booth and the guests using multiple props during a single photo session is possible in Open concept booths.
4. More Area in the Photo / Red carpet Shoot
In Open Concept Photobooths (based on the distance from the Backdrop and the placement from the booth) you can opt the have photos covering the full length of your body, waste up or chest up.. Seated or Standing. This flexibility would also provide you the opportunity to use an open concept Toronto photo booth offered by Koolpicx
Toronto Photo Booth
Rentals as an alternative to a red carpet shoot with instant photo prints!
5. Quality of Photos & Print Sizes
Photo Quality
Almost all Open Concept
Photo Booth
use DSLR cameras and use external Studio Flashes with modelling Lamps. This is very similar to the equipment used by professional photographers in a Studio setting and will have a major impact on the quality of the photo vs the traditional photo booths. Most traditional photo booth use Webcam alternatives and does to have space to have a studio flash.
Photo Size Options & Online Sharing!
Most Traditional Photo Booth only offer 2×6 photo strips where as the Open Concept photo booth provides the flexibility of 2×6 or 4×6 photo prints. Due to the technology used by companies like KoolPicX Toronto Photo Booths, the open concept photo booths can also offer instant online sharing.. most traditional photo booths does not offer this option…
Convinced yet? If the answer is YES then contact Koolpicx Toronto Photobooths. We use start of the are Open Concept Photo booth that can be customized to your theme. We can make your Toronto Wedding, School Event or Corporate event a Memorable experience!